Maturity of taro is defined as the time at which the corm is fully developed. The filling-out of the corm occurs after the foliage matures and begins to die back. Time to maturity varies with locality, exposure, season and altitude (Handy & Handy, 1940). Time to maturity will be dependent on the type of cultivation (wet- or dryland), planting density, and fertilization. Lack of water and high altitude retards growth, as does disease and pest inundation.
Early Corm matures, under ideal conditions, within about seven months.
Intermediate Corm matures, under ideal conditions, from seven to nine months.
Late Corm matures, under ideal conditions, in more than nine months.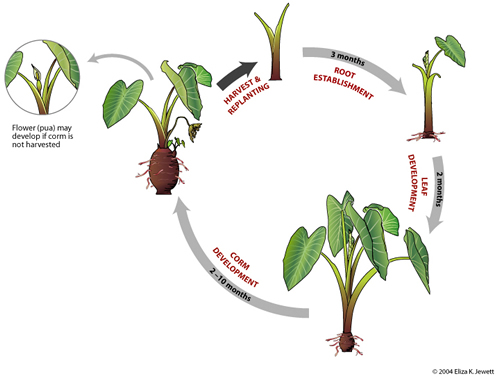 The names of the generations of taro (as listed for Hawai'i Island - Beckwith, 1932): kalo - first corm growing from the planted stalk; ke palili - small weak taro shoot; 'ohā or mu'u - corm growing from the older root or second generation; 'a'ae or 'ae - second or third crop ; 'ōnihinihi - small shoots, as of the fourth generation; kokole - kalo of the fifth generation; pahūpahū - tiny and worthless kalo off-shoot from an offshoot of several generations.