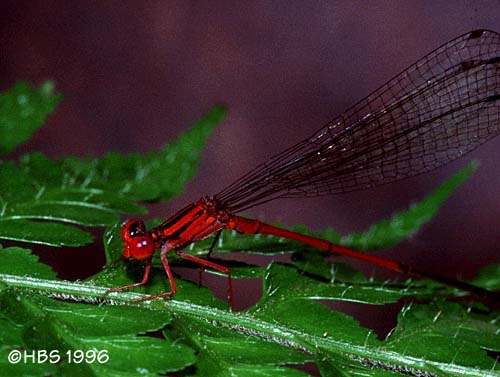 Leptodemas Megalagrion Damselfly

Scientific name: Megalagrion leptodemas

USFWS Status: Candidate.

Distribution: Oahu.

Map: [ click here ]





---
"The immatures are found in standing pools in intermittant streams at mid-elevations, and slow sections of perennial upland streams" (Polhemus & Asquith 1996).This species is found only on the island of Oahu and is considered the rarest and most endangered of the endemic damselflies found only on Oahu. Historically known from both mountain ranges of Oahu, it is now only known from 4 population in the Koolau Range, the Waianae populations having been extirpated.

Photo by David Preston

Click on image for a larger view.



---
This page last revised 19 December 1999 by nle