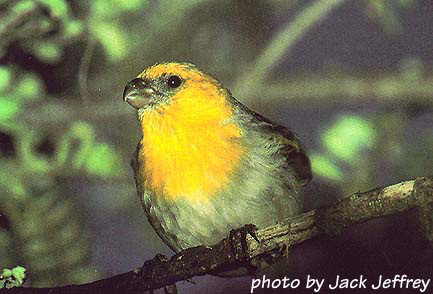 Palila

Scientific name: Loxioides bailleui

USFWS Status: Endangered

Distribution: Big Island.

Sound file:

Map: --





---
The endangered palila is found only in the mamane/naio dry forest, high on the slopes of Mauna Kea between 6,000 and 9,000 feet on the Island of Hawaii. It feeds almost exclusively on the immature seeds of the mamane tree.

Photo © 1992 by Jack Jeffrey

Click on image for a larger view.



---
This page last revised 11 August 2001 by nle
Copyright information: Sound file copyright 1995 Cornell Laboratory of Ornithology. Used with permission.