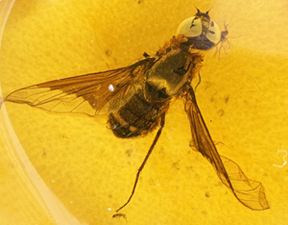 Catalog of the fossil flies of the world (Insecta: Diptera) (Version 2.0)

By Neal L. Evenhuis
---
Originally published 29 July 1994 by Backhuys Publishers, Leiden, that printed catalog and its original website recorded over 3,100 species of fossil flies throughout the world. This current web version of that catalog (here completely redesigned and revised in 2014) presents the most up-to-date version of each family chapter of the catalog and will be continually updated as published information becomes available. In order to ensure that the information here is current, please send pdf files of your published articles dealing with fossil Diptera to: NealE [at]bishopmuseum[dot] org. Corrections and additions are welcome.

The list below indicates those families that are currently available for viewing online. The family order and classification used here (i.e., valid taxonomically, and/or what genus belongs in what family) follows the standards for the Systema Dipterorum combined with extinct family classification based in part on Pape et al. (2011) as well as recent papers and previous papers dealing with families not listed in that latter work. Listed below are all the family names of recent and fossil Diptera and links to current (updated) html files (with last revised date in last column -- those in red are the most recent updates) and pdf links to their original chapters in the 1994 catalog. Families that are extinct are indicated by an asterisk (*).
Acknowledgments
Many people have been thanked in the original 1994 catalog and many more have assisted since then to help update family chapters, help procure literature, and point out, ommissions, errors, and/or inconsistencies. There are too many to name individually, but their generous help was essential in getting Version 2.0 of this online catalog posted on the web. Thanks to all!
A short note on phylogenetic classification
The actual phylogenetic classification of families within fossil and extant Diptera has been and will continue to be subject to change as more work is done to better circumscribe family definitions and determine relationships. To avoid frequent changes to this website when revised relationships are discovered -- and also to allow quick searching -- all families are listed here in alphabetical order, with cross reference to senior synonyms if they have been synonymized. The original 1994 catalog followed to a large degree the phylogenetic classification given in Carpenter's 1992 treatise on fossil Diptera genera. Much work has been done in the subsequent decades to improve upon that classification and, as a result, a large number of groups he treated as separate families have been relegated to synonymy under other families, while other taxa have been raised to familial status and new families proposed.
Citation:
Family chapters updated below as html files should be cited as:

Evenhuis, N.L. [year of last revision]. Family [family name ]. In: Catalog of the fossil flies of the world (Insecta: Diptera) website. Available at: http://hbs.bishopmuseum.org/fossilcat/[filename].html. Version [last revised date].

---
Contents:
Family
Current
1994 version
Last Revised
Introduction
HTML
PDF
28 Mar 2006
Fossils and Preservation
HTML
PDF
15 Sep 1996
Taphonomy
HTML
PDF
15 Sep 1996
Major Workers and Collections
HTML
PDF
15 Sep 1996
Localities and Ages:
Compression, Impression, and Trace Fossils
PDF
29 Jul 1994
Copal
PDF
29 Jul 1994
Amber
PDF
29 Jul 1994
Permineralization
PDF
29 Jul 1994
References for Localities and Ages
PDF
29 Jul 1994
Catalog Format
HTML
PDF
15 Dec 1996
Nomenclatural notes
HTML
PDF
15 Dec 1996
CATALOG
Family chapters:
Family
Species
Genera
Current
1994 version
Last Revised/Notes
Acartophthalmidae
1
1
HTML
PDF
20 Jan 2014
Acroceridae
10
10
HTML
PDF
2 Apr 2014
Agromyzidae
22
9
HTML
PDF
20 Jan 2014
Alinkidae*
1
1
HTML
PDF
20 Jan 2014
Anisopodidae
48
19
HTML
PDF
9 Feb 2014
Ansorgiidae*
1
1
HTML
PDF
20 Jan 2014
Antefungivoridae*
41
9
HTML
PDF
20 Jan 2014
Anthomyiidae
3
2
HTML
PDF
20 Jan 2014
Anthomyzidae
14
4
HTML
PDF
20 Jan 2014
Apioceridae
2
2
HTML
-
20 Jan 2014
Apsilocephalidae
5
3
HTML
-
2 Apr 2014
Apystomyiidae
6
1
HTML
-
2 Apr 2014
Archisargidae*
61
15
HTML
-
16 Jan 2017
Archilimoniidae*
-
-
-
-
see Pediciidae
Architendipedidae*
-
-
-
PDF
see Ptychopteridae
Architpulidae*
-
-
-
-
see Limoniidae
Archizelmiridae*
5
4
HTML
PDF
2 Apr 2014
Archocyrtidae*
1
1
HTML
-
20 Jan 2014
Asilidae
54
31
HTML
PDF
17 January 2017
Asiochaoboridae*
4
4
HTML
PDF
20 Jan 2014
Asteiidae
5
4
HTML
PDF
20 Jan 2014
Atelestidae
11
8
HTML
-
14 Feb 2014
Athericidae
14
9
HTML
PDF
27 Feb 2014
Aulacigastridae
1
1
HTML
PDF
20 Jan 2014
Australimyzidae
-
-
-
-
no fossils known
Austroleptidae
-
-
-
-
no fossils known
Axiniidae
-
-
-
-
see Rhinophoridae
Axymyiidae
7
4
HTML
-
9 Feb 2014
Baeonotidae
-
-
-
-
see Cecidomyiidae
Bengaliidae
-
-
-
-
see Calliphoridae
Bibionidae
372
9
HTML
PDF
2 Apr 2014
Blephariceridae
7
5
HTML
PDF
2 Apr 2014
Boholdoyidae*
3
2
HTML
PDF
20 Jan 2014
Bolitophilidae
2
1
HTML
PDF
20 Jan 2014
Bombyliidae
63
35
HTML
PDF
17 January 2017
Borboridae
-
-
-
-
see Sphaeroceridae
Borboropsidae
-
-
-
-
see Heleomyzidae
Brachystomatidae
7
5
HTML
-
26 Jan 2014
Braulidae
-
-
-
-
no fossils known
Calliphoridae
4
3
HTML
PDF
9 Feb 2014
Calobatidae
-
-
-
-
see Micropezidae
Camillidae
2
1
HTML
PDF
9 Feb 2014
Campichoetidae
-
-
-
-
see Diastatidae
Canacidae
-
-
HTML
-
9 Feb 2014
Canthyloscelididae
2
2
HTML
PDF
9 Feb 2014
Carnidae
2
2
HTML
PDF
9 Feb 2014
Cecidomyiidae
181
84
HTML
PDF
2 Apr 2014
Celyphidae
-
-
-
-
no fossils known
Ceratopogonidae
298
50
HTML
PDF
2 Apr 2014
Chamaemyiidae
1
1
HTML
PDF
9 Feb 2014
Chaoboridae
47
20
HTML
PDF
2 Apr 2014
Chimeromyiidae*
8
2
HTML
-
9 Feb 2014
Chironomidae
287
119
HTML
PDF
21 Jun 2002
Chiropteromyzidae
-
-
-
-
see Heleomyzidae
Chloropidae
7
3
HTML
PDF
16 Feb 2014
Chyromyidae
1
1
HTML
PDF
12 Feb 2014
Clusiidae
3
2
HTML
PDF
12 Feb 2014
Cnemospathidae
-
-
-
-
see Heleomyzidae
Coelopidae
-
-
-
-
no fossils known
Coenomyiidae
-
-
-
-
see Xylophagidae
Conopidae
1
2
HTML
PDF
12 Feb 2014
Corethrellidae
9
1
HTML
PDF
2 Apr 2014
Cramptonomyiidae
-
-
-
-
see Pachyneuridae
Cratomyiidae*
-
-
-
-
see Zhangsolvidae
Cremfaniidae
-
-
-
-
see Chamaemyiidae
Crosaphididae*
2
1
HTML
PDF
12 Feb 2014
Cryptochetidae
1
1
HTML
PDF
12 Feb 2014
Ctenostylidae
-
-
-
-
no fossils known
Culicidae
34
11
HTML
PDF
2 Apr 2014
Curtonotidae
3
2
HTML
PDF
13 Feb 2014
Cuterebridae
-
-
-
-
see Oestridae
Cylindrotomidae
15
1
HTML
PDF
13 Feb 2014
Cyselidae
-
-
-
-
see Sphaeroceridae
Cypselosomatidae
2
2
HTML
PDF
13 Feb 2014
Cyrtosiidae
-
-
-
-
see Mythicomyiidae
Deuterophlebiidae
-
-
-
-
no fossils known
Diadocidiidae
2
2
HTML
PDF
2 Apr 2014
Diastatidae
4
1
HTML
PDF
13 Feb 2014
Diopsidae
5
2
HTML
PDF
13 Feb 2014
Diplopolyneuridae*
-
-
-
PDF
see Pediciidae
Ditomyiidae
4
3
HTML
PDF
13 Feb 2014
Dixamimidae*
-
-
-
PDF
see Chaoboridae
Dixidae
16
4
HTML
PDF
26 Jan 2014
Dolichopodidae
154
60
HTML
PDF
2 Apr 2014
Drosophilidae
13
8
HTML
PDF
13 Feb 2014
Dryomyzidae
4
3
HTML
PDF
13 Feb 2014
Eginiidae
-
-
-
-
see Muscidae
Elliidae*
4
2
HTML
PDF
14 Feb 2014
Empididae
83
25
HTML
PDF
2 Apr 2014
Eoditomyiidae*
1
1
HTML
-
15 Feb 2014
Eomycetophilidae*
-
-
-
-
see Paraxymyiidae
Eomyiidae*
1
1
HTML
PDF
15 Feb 2014
Eophlebomyiidae*
1
1
HTML
PDF
15 Feb 2014
Eopleciidae*
6
6
HTML
PDF
15 Feb 2014
Eopolyneuridae*
2
2
HTML
PDF
15 Feb 2014
Eoptychopteridae*
-
-
-
PDF
see Ptychopteridae
Eostratiomyiidae*
1
1
HTML
PDF
16 Feb 2014
Ephydridae
7
5
HTML
PDF
16 Feb 2014
Eremochaetidae*
14
9
HTML
PDF
16 Feb 2014
Eriopteridae
-
-
-
-
see Limoniidae
Eurychoromyiidae
-
-
-
-
no fossils known
Eurygnathomyiidae
-
-
-
-
see Pallopteridae
Euxestiidae
-
-
-
-
see Ulidiidae
Evocoidae
-
-
-
-
no fossils known
Exeretonevridae
-
-
-
-
see Xylophagidae
Fanniidae
-
-
-
PDF
no fossils known
Fergusoninidae
-
-
-
-
no fossils known
Gasterophilidae
-
-
-
-
see Oestridae
Glossinidae
2
1
HTML
PDF
16 Feb 2014
Gnomuscidae*
2
1
HTML
-
16 Feb 2014
Gobryidae
-
-
-
-
no fossils known
Gracilituplidae*
-
-
-
PDF
see Pediciidae
Grauvogeliidae*
4
3
HTML
-
Helcomyzidae
-
-
-
-
no fossils known
Heleomyzidae
19
11
HTML
PDF
27 Feb 2014
Helosciomyzidae
-
-
-
-
no fossils known
Hennigmatidae*
5
4
HTML
-
Hesperinidae
5
2
HTML
-
Heterocheilidae
-
-
-
-
no fossils known
Heterorhyphidae*
3
2
HTML
-
Heterostomyzidae
-
-
-
-
see Heleomyzidae
Heterostomidae
-
-
-
-
see Xylophagidae
Hilarimorphidae
1
1
HTML
-
Hippoboscidae
2
2
HTML
PDF
27 Feb 2014
Hoffeinsmyiidae*
1
1
HTML
-
Homalocnemidae
-
-
-
-
no fossils known
Huaxiasciaritidae*
-
-
-
-
see Mycetophildae
Huttoninidae
-
-
-
-
no fossils known
Hybotidae
59
29
HTML
-
Hyperpolyneuridae*
2
2
HTML
-
Hyperoscelididae
-
-
-
-
see Canthyloscelididae
Hypodermatidae
-
-
-
-
see Oestridae
Inbiomyiidae
-
-
-
-
no fossils known
Ironomyiidae
23
6
HTML
-
18 January 2017
Iteaphila group
-
-
-
-
no fossils known
Keroplatidae
53
18
HTML
PDF
17 Feb 1997
Kovalevisargidae*
6
2
HTML
-
Kuperwoodiidae*
1
1
HTML
-
Lauxaniidae
6
3
HTML
PDF
17 Feb 1997
Leptoconopidae
-
-
-
-
see Ceratopogonidae
Lestremiidae
-
-
-
-
see Cecidomyiidae
Limnorhyphidae*
-
-
-
PDF
see Perissommatidae
Limoniidae
481
99
HTML
PDF
16 Feb 2014
Lonchaeidae
1
1
HTML
-
Lonchopteridae
3
3
HTML
PDF
27 Jan 2014
Luanpingitidae*
1
1
HTML
PDF
17 Feb 1997
Lygistorrhinidae
2
1
HTML
PDF
17 Feb 1997
Macroceridae
-
-
-
-
see Keroplatidae
Mangasidae*
1
1
HTML
-
Manotidae
-
-
-
-
see Mycetophilidae
Marginidae
-
-
-
-
no fossils known
Megamerinidae
1
1
HTML
PDF
17 Feb 1997
Mesembrinelliidae
-
-
-
-
see Calliphoridae
Mesophantasmatidae*
1
1
HTML
PDF
17 Feb 1997
Mesosciophilidae*
9
5
HTML
PDF
18 Dec 1996
Microdontidae
-
-
-
-
see Syrphidae
Micropezidae
5
4
HTML
PDF
11 May 1997
Microphoridae
-
-
-
-
see Empididae
Milichiidae
11
4
HTML
PDF
17 Feb 1997
Mindidae
-
-
-
-
see Chloropidae
Mormotomyiidae
-
-
-
-
no fossils known
Muscidae
7
6
HTML
PDF
23 Nov 1996
Musidoromimidae*
-
-
-
PDF
see Trichoceridae
Mycetobiidae
-
-
-
-
see Anisopodidae
Mycetophilidae
397
126
HTML
PDF
2 Apr 2014
Mydidae
1
1
HTML
PDF
17 Feb 1997
Mystacinobiidae
-
-
-
-
no fossils known
Mythicomyiidae
25
14
HTML
-
2 Apr 2014
Nadipteridae *
4
2
HTML
-
Nannodastiidae
-
-
-
-
no fossils known
Natalimyzidae
1
1
HTML
-
Necromyzidae*
-
-
-
-
see Keroplatidae
Nemestrinidae
14
9
HTML
PDF
29 Jul 1994
Neminidae
-
-
-
-
no fossils known
Neottiophilidae
-
-
-
-
see Piophilidae
Neriidae
-
-
-
-
no fossils known
Neurochaetidae
2
1
HTML
PDF
17 Feb 1997
Nothybidae
-
-
-
-
no fossils known
Notomyzidae
-
-
-
-
see Heleomyzidae
Nycteribiidae
-
-
-
-
see Hippoboscidae
Nymphomyiidae
1
1
HTML
-
26 Jan 2014
Odiniidae
2
2
HTML
PDF
11 May 1997
Oestridae
7
6
HTML
PDF
17 Nov 2001
Olbiogastridae
-
-
-
-
see Anisopodidae
Oligophrynidae*
1
1
HTML
-
Opetiidae
8
7
HTML
-
Opomyzidae
1
1
HTML
-
Orientisargidae*
1
1
HTML
-
Oreogetonidae
-
-
-
-
no fossils known
Oreoleptidae
-
-
-
-
no fossils known
Origoasilidae*
-
-
-
-
see Archisargidae
Otitidae
-
-
-
PDF
see Ulidiidae
Pachyneuridae
3
2
HTML
PDF
12 Feb 2014
Palaeolimnobiidae*
-
-
-
-
see Pediciidae
Palaeopleciidae*
-
-
-
PDF
see Protopleciidae
Palaeostratiomyidae*
1
1
HTML
-
Paleophoridae*
1
1
HTML
-
Pallopteridae
5
4
HTML
PDF
17 Feb 1997
Pantophthalmidae
-
-
-
-
no fossils known
Parapleciidae*
-
-
-
PDF
see Perissommatidae
Paraxymyiidae*
8
4
HTML
PDF
29 Jul 1994
Pediciidae
23
7
HTML
-
13 Feb 2014
Pelecorhynchidae
-
-
-
-
see Rhagionidae
Penthetriidae
-
-
-
-
see Bibionidae
Periscelididae
7
3
HTML
-
Perisommatidae
3
2
HTML
PDF
17 Feb 1997
Phaeomyiidae
1
1
HTML
-
Phlebotomidae
-
-
-
-
see Psychodidae
Phoridae
74
22
HTML
PDF
29 Jul 1994
Phragmoligoneuridae*
-
-
-
-
see Protopleciidae
Phycodromidae
-
-
-
-
see Coelopidae
Phytalmiidae
-
-
-
-
see Tephritidae
Piophilidae
1
1
HTML
PDF
29 Jul 1994
Pipunculidae
8
6
HTML
PDF
29 Jul 1994
Platypezidae
9
7
HTML
PDF
29 Jul 1994
Platystomatidae
2
2
HTML
PDF
17 Feb 1997
Pleciidae
-
-
-
-
see Bibionidae
Pleciodictyidae*
-
-
-
PDF
see Protopleciidae
Pleciofungivoridae*
66
18
HTML
PDF
11 Dec 1996
Procramptonomyiidae*
3
2
HTML
PDF
29 Jul 1994
Proneottiophilidae
1
1
HTML
PDF
17 Feb 1997
Prosechamyiidae*
2
1
HTML
-
Protapioceridae*
3
1
HTML
-
Protempididae*
-
-
-
PDF
see Empididae
Protendipedidae*
3
2
HTML
PDF
29 Jul 1994
Protobibionidae*
-
-
-
PDF
see Chironomidae
Protobrachyceridae*
3
1
HTML
Protolbiogastridae*
-
-
-
-
see Anisopodidae
Protoligoneuridae*
-
-
-
PDF
see Protopleciidae
Protomphralidae*
2
2
HTML
PDF
17 Feb 1997
Protopleciidae*
43
15
HTML
PDF
11 Mar 1997
Protorhyphidae*
12
5
HTML
PDF
29 Jul 1994
Protoscatopsidae*
2
2
HTML
PDF
17 Feb 1997
Pseudopomyzidae
-
-
-
PDF
see Cypselosomatidae
Psilidae
3
3
HTML
PDF
29 Jul 1994
Psychodidae
52
18
HTML
PDF
29 Jul 1994
Psychotipidae*
1
1
HTML
-
Pterocallidae
-
-
-
-
see Ulidiidae
Ptychopteridae
85
17
HTML
PDF
2 Apr 2014
Pyrgotidae
1
1
HTML
PDF
17 Feb 1997
Rachiceridae
-
-
-
PDF
see Xylophagidae
Rangomaramidae
-
-
-
-
no fossils known
Rhaetaniidae*
-
-
-
-
see Tillyardipteridae
Rhaetomyiidae*
-
-
-
PDF
see Chaoboridae
Rhagionemestridae*
5
5
HTML
-
Rhagionempididae*
6
5
HTML
PDF
17 Feb 1997
Rhagionidae
51
24
HTML
PDF
29 Jul 1994
Rhiniidae
-
-
-
-
no fossils known
Rhinophoridae
-
-
-
-
no fossils known
Rhinotoridae
-
-
-
-
see Heleomyzidae
Richardiidae
3
3
HTML
-
Risidae
-
-
-
-
see Ephydridae
Ropalomeridae
-
-
-
-
no fossils known
Sarcophagidae
2
2
HTML
PDF
29 Jul 1994
Scathophagidae
5
3
HTML
PDF
29 Jul 1994
Scatopsidae
15
5
HTML
PDF
29 Jul 1994
Scenopinidae
1
1
HTML
PDF
17 Feb 1997
Sciadoceridae
PDF
see Phoridae
Sciaridae
142
14
HTML
PDF
8 Dec 1996
Sciomyzidae
13
6
HTML
PDF
29 Jul 1994
Sepsidae
5
3
HTML
PDF
29 Jul 1994
Serendipidae*
3
2
HTML
PDF
29 Jul 1994
Siberhyphidae*
1
1
HTML
PDF
29 Jul 1994
Simuliidae
13
7
HTML
PDF
17 Feb 1997
Sinemediidae*
-
-
-
-
see Antefungivoridae
Sinotendipedidae*
-
-
-
PDF
see Blephariceridae
Siphonellopsidae
-
-
-
-
see Chloropidae
Solvidae
-
-
-
-
see Xylomyidae
Somatiidae
-
-
-
-
no fossils known
Spaniidae
-
-
-
-
no fossils known
Sphaeroceridae
2
2
HTML
PDF
29 Jul 1994
Stackelbergomyiidae
-
-
-
-
see Tachinidae
Stenomicridae
-
-
-
-
see Periscelididae
Strashilidae*
2
2
HTML
-
Stratiomyidae
24
18
HTML
PDF
17 Nov 2001
Streblidae
-
-
-
-
see Hippoboscidae
Strongylophthalmyiidae
-
-
-
-
-
Stylogastridae
-
-
-
-
see Conopidae
Synneuridae
1
1
PDF
see Cathyloscelididae
Syringogastridae
1
1
-
no fossils known
Syrphidae
100
38
HTML
PDF
29 Jul 1994
Tabanidae
14
7
HTML
PDF
15 Sep 1996
Tachinidae
10
8
HTML
PDF
29 Jul 1994
Tachiniscidae
-
-
-
-
no fossils known
Taeniapteridae
-
-
-
-
see Micropezidae
Tanyderidae
6
3
HTML
PDF
29 Sep 1996
Tanyderophrynidae*
1
1
HTML
PDF
29 Jul 1994
Tanypezidae
1
1
HTML
-
Tephritidae
6
6
HTML
PDF
29 Jul 1994
Teratomyzidae
-
-
-
-
no fossils known
Termitoxeniidae
-
-
-
-
see Phoridae
Tethepomyiidae*
1
1
HTML
-
Tethinidae
-
-
-
PDF
see Canacidae
Thaumaleidae
1
1
HTML
PDF
17 Feb 1997
Therevidae
11
6
HTML
PDF
29 Jul 1994
Thyreophoridae
-
-
-
-
see Piophilidae
Tillyardipteridae*
2
2
HTML
-
Tipulidae
100
8
HTML
PDF
18 Dec 1996
Tipulodictyidae*
1
1
HTML
PDF
29 Jul 1994
Tipulopleciidae*
1
1
HTML
PDF
29 Jul 1994
Trichoceridae
84
13
HTML
PDF
29 Jul 1994
Trixoscelididae
-
-
-
-
see Heleomyzidae
Trypetidae
-
-
-
-
see Tephritidae
Tunisimyiidae
-
-
-
-
see Xenasteiidae
Tylidae
-
-
-
-
see Micropezidae
Ulidiidae
4
3
HTML
-
Unplaced Asilomorpha
2
2
HTML
-
Unplaced Brachycera
12
4
HTML
PDF
29 Jul 1994
Unplaced Diptera
23
14
HTML
PDF
29 Jul 1994
Unplaced Nematocera
34
26
HTML
PDF
29 Jul 1994
Unplaced Tabanoidea
2
2
HTML
PDF
29 Jul 1994
Valeseguyidae
2
2
HTML
-
2 Apr 2014
Vermileonidae
1
1
HTML
PDF
29 Jul 1994
Xylomyidae
4
3
HTML
PDF
29 Jul 1994
Xylophagidae
8
7
HTML
PDF
29 Jul 1994
Vladipteridae*
2
2
HTML
-
Xenasteiidae
-
-
-
-
no fossils known
Zhangobiidae*
-
-
-
PDF
see Pediciidae
Zhangsolvidae*
3
3
HTML
-
Totals
4327
1469
18 Jan 2017
1994 totals
3114**
1036
Taxa Removed from Diptera
HTML
PDF
29 Jul 1994
Literature Cited
HTML
PDF
26 Feb 2014
** Equals corrected count from 1994
Back to Bishop Museum Entomology Home Page
---
Last revised 18 January 2017